I found this cute Etsy shop, 
Yeppar
, through a giveaway and just had to have the 
Hannah dress pattern
. I made it up in the 12m size for baby M.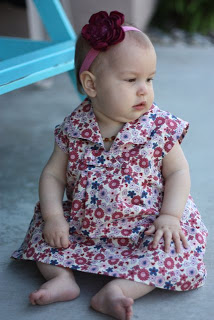 It came together fairly quickly. There were just a few minor issues with the pattern and instructions but overall I loved the way the collar turns out. I just used some random fabric from my stash since I didn't want to cut into the good stuff on an unproven pattern. But now I will make M at least one more of these. The pattern goes up to a 5T so I can even make one for A.
Here are some of the edits and things I will do differently next time. For one, the pattern doesn't have seam allowances. I will cut the actual pattern out with these allowances instead of waiting to add them when I cut out the fabric. Another issue was with the collar. The instructions say to finish the edge of the collar by folding under 1/2″, then another 1/2″. This should be 1/4″ then another 1/4″. A full inch and you can't sew down the back inside of the collar to the back of the dress. I will probably finish the underarm of the dress a little differently next time, too. I didn't like how there was a seam floating in the middle of the dress. So I followed the directions but made my seam connect to the sleeve edge seam. I'm not really sure what I'll do next time, but I'll have to think about it. I also constructed the little button closure a little differently. I folded in 1/2″ on either short side, then sewed right sides together down the long side, turned right side out, then top stitched. The way outlined in the directions turned out too sloppy for me. Oh yeah, I also made a 2T length on the 12m size. The original was just a little too short for my taste. It would make a very cute shirt, though.
All in all a very cute pattern and fairly easy to construct. Easy to get on and off, too. No elastic, zipper or buttons in the back to worry about.