I made a dance bag for a friend's daughter like the one I made for Allison. The next one I make, I will have to come up with a better way to get the pockets to go around the corners better. Maybe a pleat on the bottom of each one. I borrowed a friend's embroidery machine to do the name and since she is looking to sell it, I might even buy it from her. Not that I have anywhere near the room for another machine but it would be nice to have.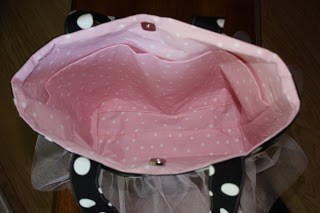 The bag came together a little easier this time, since I had made one before. Next time I make one, I might even get the gumption to take pictures and post a tutorial. I enjoy doing custom work for people, especially since lately Allison doesn't want to wear most of the stuff I make for her. Oh well, the next baby will be a captive audience for the next few years. 
In other news, the Redding Handmade Etsy Team had a mini show at Sweet Spot and I sold a few of my baby items to friends. It was a lot of fun and I'm looking forward to more events in the future. You can search on Etsy for our local artists by entering our team tag of rhteam.