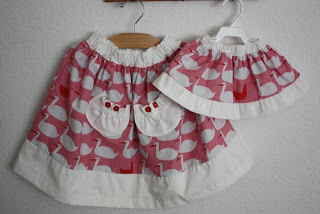 Continuing on my baby sewing kick, I made matching Market Skirts for A and her soon-to-be baby sister. I love the Red Letter Day print from Lizzy House and of course it had to be pink for Allison. I also got the orange version of this but decided to make both skirts the pink. Now I just need to come up with something sort of coordinating for brother. I don't think pink geese would work and he would look like a crazy old man if I made pants or something from the orange. So, still thinking about it. I will actually try to get a picture of Allison wearing the skirt and the goal is to have family pictures after the baby comes.
I modified the length on the big skirt, since A is 4 and has long legs. I left the waistband the same size, increased the print length to 12″ and the bottom band to 5″. The bottom was a little long, so I should have only made it 4″. I left the width of each tier the same. For the approximate newborn size, I shrank it both length and width-wise. For a 14″ waist, I cut 2 each at: waistband was 11″x2.5″, middle band 18″x5″, bottom band 21″x2″. I also did the construction a little differently. For the bottom band, I cut two pieces 21″x4″, sewed them together at the sides and folded them in half  to get the double thickness like the tutorial suggests. That way, I didn't have to hem it. (I did this with the big skirt, too, but ended up hemming it since it was a little long). I also sewed the bands into circles and gathered them that way. It's not any harder to gather in a round than in a straight line and this way your side seams match a little better and the bottom folded over band doesn't have an exposed seam.
I only did the pockets on the big skirt, but I might try to shrink down the pattern for baby skirt and only put on one. I love how they turned out.